Mas Oms, where you have everything you need for a zen holiday
Want to recharge your batteries in a calm, relaxing setting? Explore the different areas at Mas Oms designed for a zen holiday.
Mas Oms is designed so that everyone feels at home and can find the relaxation they are looking for. You can sit by the pool and enjoy the breathtaking view of the Gavarres Massif. You can also rest or read in peace in the zen areas found both inside and outside the masia while the younger ones enjoy the estate's woods. Lastly, you can boost your well-being by taking part in daily awakening and relaxation activities, enjoying a massage or participating in one of the on-site workshops. Looking for a zen holiday? Make your booking here.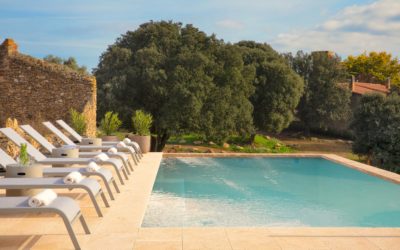 Welcome to vacation. Enjoy a saltwater pool kept warm by solar panels throughout the season. Relax in a deckchair under the shade of the pergola or sunbathe in the sun. Cool off in the swimming pool while enjoying a breathtaking view of the Gavarres. At Mas Oms,...